This has been one of the best summers in recent memory in Seattle, but ironically I've spent a good deal of it in a darkened room. I love editing, my roots are in that world, and it's been great working with our amazing editor Jo Ardinger to finish our new feature film PHOEBE'S FATHER. Phoebe is a young woman who's just starting to find her place in life as a competitive cyclist. When her estranged father Ben (Lawrason Driscoll) re-emerges in her life, Phoebe and her brother Whit (Eric Jordan) have to confront a crucial event in the family's past.
Making this film has been an unusual and wonderful experience. PHOEBE'S came into existence through the efforts of a small, dedicated and supremely talented group of actors and crew. We started almost exactly a year ago. The idea was to make a story that would be real and intimate and that could be shot in a few locations in the immediate community. I feel lucky that some very talented actors were eager to go on this journey with me: Marie Lazzaro, Lawrason Driscoll, Eric Jordan, and Betty Campbell. Over the course of four months they developed the characters' life histories and the story of the film through a series of improvisations. From that work, I wrote a script, and director of photography Lars Larson, production designer Tania Kupczak and producer Lisa Glaze joined in to put the film into production. Over February, March and April we shot around Seattle, mostly in Fremont and Ballard, with a fantastic crew. My hat is off to everyone who has thrown their creative energies into this story.
Now, editor Jo is off to New Hampshire to get married and we only need to put the finishing touches on the edit. We're moving into that fun phase of finalizing music and sound. The movie's come together great and we're truly excited to share it with the world soon. Here are a few more photos and I'll post more details as we get closer to premiering the film in 2015.
[photo by Tim Aguero]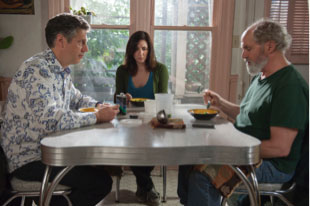 [Eric Jordan, Marie Lazzaro and Lawrason Driscoll, photo by Tim Aguero]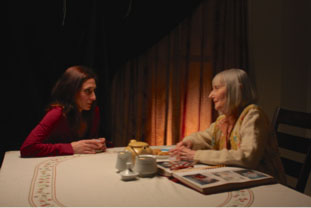 [Marie Lazzaro and Betty Campbell, photo by Anne Herman]